Grow Virtually Any Plant, Vegetable And Fruit Without Soil. Even If You're Complete Beginner!"
Its new, its unbelieveablly low cost and its a very enjoyable hobby.
Do you live in a house, apartment block or just don't have a garden of your own... Then this is ideal for you.
You don't need to go spending upwards of hundreds of dollars when you can have your hydroponic garden up in a much lesser price.
You'll discover the easy steps to get
your hydroponic garden growing


Hyroponic Farming is a technique to grow fruits and vegetables in soil less culture with help of nutrients in water. This soil less culture offers a healthy plant with fast growth without any disease.
The plants are grown in nutrient solution that supply all nutrient elements needed for optimum growth of plants with or without the use of inert medium such as gravel,rockwool,saw dust, coir dust, coconut fiber etc to provide mechanical support.
We offer complete system along with all accessories and nutrient solution. The system can be fixed in any space where fresh air and sun light is available. We can also use this system in controlled environment and all kind of non seasonal vegetables can be grown. Moreover we have observed that the produce from the plant by this method is about 5 times more than average plant in soil. This system can be installed in remote areas like high altitudes or deserts. Home hobbyist can use for quickly raising plants to maturity as they are able to grow plants of highest quality many times a year.
<![if !vml]>
<![endif]>In our system nutrient solution flow through 10 cm diameter PVC pipes to which plastic net pots with plants are fitted. The plastic pots contain planting materials and their bottoms touch the nutrient solution that flows in the pipes. The PVC pipes may be arranged in one plane or in zig zag shape depending on the types of crops grown.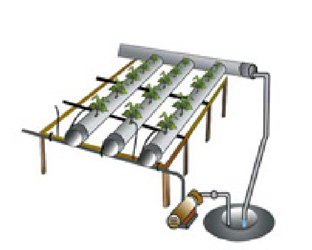 Single plane pipe system
The zig zag system utilizes the space efficiently but suitable for low growing crops. The single plane system is suitable for both tall and short crops.
Single Plane Pipe System

Zig Zag Pipe System